Years before I was a body transformation expert I struggled for a LONG TIME to get into shape
…before I was a trainer,
…before I helped transform thousands of clients in my
Body Transformation studio and Miss Fitness Life.
I am still a bit embarrassed about sharing my own "before" photo but here it is:
At this time of year I was always confused and anxious about what to do.
I always felt I was faced with two pretty ordinary choices
Should I just give up and start again in the new year?
I've definitely done that…and started the new year with a gain…and felt all the disappointment and frustration that goes with that…
Or Should I just say NO to everything and feel like I am missing out on the family event of the year?
Now I know there is a much better way to enjoy Christmas with the family…
I call it the Free Pass Method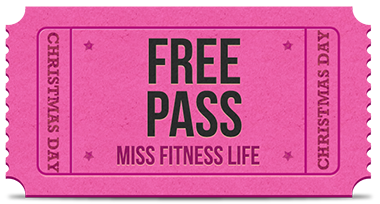 How the Free Pass Method Works
Special days like
Christmas Day
Your Birthday
Your Wedding Day
Are your *FREE* days
When you are living your Miss Fitness Life to the full it's actually a great idea have a few RELEASE days through the year.
It also makes your special days more enjoyable as you know you have earned them.
Here is How to Earn Your Free Pass:

Follow your mealplan 100% eating healthy food
Complete your scheduled workouts right up to Christmas day.
ENJOY your Christmas feast & celebrations with no restrictions
And back to 100% the very next day…
… it's a WIN win…
It's about making being FIT and HEALTHY and ACTIVE a Lifestyle..
When being Fit Healthy and active is part of your lifestyle it's fine to have Release Days through the year.
Over the next few days I will be sharing some awesome tricks for surviving Christmas and starting the New Year fitter, stronger and feeling more alive than ever before…
You've got this!